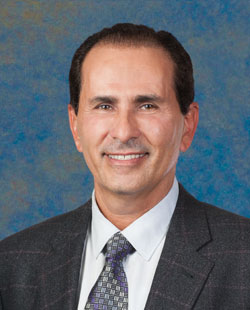 Ashraf F. Hanna, M.D.
Dr. Ashraf Hanna is a board certified Anesthesiologist and pain management doctor practicing in Clearwater, Florida. He is a graduate of Ain Shams University in Cairo, Egypt. He completed his Anesthesiology residency at Illinois Masonic Medical Center in Chicago, where he spent six months of advanced clinical training in pain management. Dr. Hanna has also completed a Pain Management Fellowship at the prestigious Cleveland Clinic in Ohio.
Dr. Hanna had served as President for the Florida Academy of Pain Medicine. He is also a member of several professional organizations such as the American Society of Anesthesiology, Florida Academy of Pain Management, American Society of Interventional Pain Management, and American Society of Regional Anesthesia.
Dr. Ashraf Hanna has co-authored several publications and was awarded first prize for a research presentation at the Cleveland Society of Anesthesiology. With over 15 years of experience, Doctor Hanna offers state-of-the-art treatment for all painful conditions and has performed more than…
Dr. Ashraf Hanna is the leader in the more advanced spinal cord stimulators implants and radiofrequency ablation procedures for intractable low back pain. Doctor Hanna's pain management clinic is located at our main office in Clearwater, Florida, minutes from the St. Petersburg and Tampa Bay areas.
Some conditions which Dr. Hanna treats are as follows:
Auto Accidents
Sciatica
Workers' Comp Injuries
Joint Pain
Cervical and Lumbar Stenosis
Discogenic Pain
Cervical and Lumbar Herniated Disc
Neck and Back Pain
Cervical and Lumbar Facet Joint Disease
Low Back Pain
Whiplash Injuries
CRPS (Chronic Regional Pain Syndrome formally known as RSD)
Headaches
Back