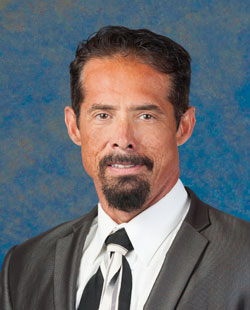 Francisco M. Torres, M.D.
Dr. Francisco Torres was born in Seville, Spain and graduated Cum Laude from the University of Puerto Rico in 1982 with a degree in Biology. He then attended the University of Puerto Rico School of Medicine and was awarded his medical degree in 1986.
Dr. Torres performed his residency in Physical Medicine & Rehabilitation at the Veterans Administration Hospital in San Juan, Puerto Rico before completing a Musculoskeletal Fellowship at Louisiana State University Medical Center in New Orleans. He went on to serve three years as Clinical Instructor of Medicine and Assistant Professor at LSU before joining Florida Spine Institute in 1993.
Dr. Torres specializes in the diagnosis and treatment of patients with spine related pain symptoms and osteoarthritis of multiple joints. He is a member of the American Academy of Physical Medicine and Rehabilitation, as well as the Pinellas Medical Society. He is also a fellow of the American Association of Electrodiagnostic Medicine and a member of the International Spinal Injection Society. He has been certified by the American Board of Electrodiagnostic Medicine and the American Board of Pain Medicine. He has served as Vice President of the Florida Academy of Pain Management and has participated in several clinical research studies. Dr. Torres was also the principal investigator studying the use of Botulinum Toxin A as a treatment for chronic lower back pain.
He has authored and co-authored several articles published in various medical journals, including the American Journal of Physical Medicine & Rehabilitation. He was presented at several medical conferences in Florida, Louisiana, and South Carolina on topics related to his practice and research.
Dr. Torres is primarily interested in preventative medicine, but it is never too late from his perspective to get well. He works will all of his patients to promote overall wellness – primarily through targeted exercise and nutrition.
You can expect Dr. Torres' to practice what he preaches and you can count on an individualized health and wellness plan tailored to your needs. You shouldn't only see your doctor when you're in pain, but if you are, Dr. Torres is prepared to get you back on track. What gets him up in the morning is the thought that his work helps his patients live life to the fullest.
In addition, our state-of-the-art facilities make it easy to meet your health and wellness needs, all in one place.
Back